Zelenitz, Shapiro & D'Agostino, P.C.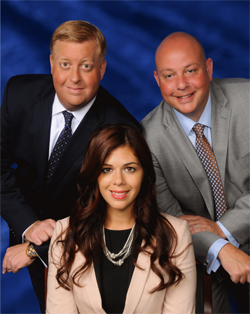 At the Law Firm of Zelenitz, Shapiro & D'Agostino, P.C., we are dedicated to providing our clients with the highest quality representation together with the utmost in professional service. We are here to navigate the treacherous waters of New York's complicated legal system for our clients.
Zelenitz, Shapiro & D'Agostino, P.C., has built a reputation for providing affordable, high quality legal services in the greater metropolitan New York City area. We handle all types of legal issues, including, but not limited to: general civil and commercial litigation; plaintiffs' and defendants' personal injury litigation; matrimonial and domestic relations; bankruptcy; landlord/tenant; criminal defense; real estate transactions and litigation and more.
Our staff includes three partners, five associate attorneys, a number of support staff and a wide range of attorneys whom act "of counsel" to the firm in areas of boutique litigation. We also maintain a fully diversified firm with both male and female attorneys as well as a multi-lingual staff representing several different nationalities.
The partners of this law firm have been proud to represent members of various managed care legal plans for almost fifteen years, having been a forerunner in the field of managed representation. We have a firm commitment to the idea of managed legal care and believe it to be the future of legal services. We pride ourselves on our ability to provide quality legal services in accordance with legal plan rates which are far less than those charged by our competition, while still attaining equal or greater results for our clients.
Our dedication to managed legal plans has helped us to provide legal services to both the most prestigious and the most under-served members of the metro NYC community. The oversight and dedication to customer service which are inherent in the representation of legal plan members result in highly satisfied clients. We are proud to serve our legal plan members from all such plans, including the United Federation of Teachers, NYS Unified Teachers, SEIU 1199, LegalShield and the various other legal plans whose members we have had the pleasure and privilege of working with over the years.
Practice Areas
Our Commercial & Civil Litigation department covers all types of legal matters in the Small Claims, District, Civil and Supreme Courts of New York State, as well as, the Federal District Courts in the Eastern and Southern Districts of New York.
Our Personal Injury department currently prosecutes cases ranging from auto accidents to slip and falls to complex medical malpractice and wrongful death matters. In addition, we also act as defense counsel for clients who are being sued in similar matters.
Our Domestic Relations division handles a wide array of issues from uncontested and contested divorces in Supreme Court as well as Family Court matters involving child custody, visitation and support, abuse and neglect petitions and orders of protection. We represent clients from all over the country whose cases are venued in New York Courts.
Our Bankruptcy department handles Chapter7 and Chapter 13 matters for our clients. We guide our clients through this difficult process and help them eliminate their debt and get a fresh start.
Our Landlord/Tenant division litigates several hundred new and distinct matters annually. We represent large and small landlords, both commercial and residential, as well as, all types of tenants, on a multitude of simple and complex matters.
Our Criminal Defense department handles all types of alleged state and federal crimes ranging from traffic matters to misdemeanors and the most serious of felonies.
Our Real Estate division represents banks, buyers, and sellers in commercial and residential transactions. We conduct several hundred real estate transactions per year. In addition, we defend foreclosure matters, represent clients seeking the partition and division of real property and those seeking judicial review of actions taken by condominium and/or cooperative boards, as well as prosecute and defend breach of contract actions.
Our Estates & Trusts section helps individuals and families plan for the future….and the inevitable. Proper planning now can make your families life much easier.
For the convenience of our clients we have offices located near the Courts throughout New York City and Long Island. We also offer Saturday appointments and are available twenty-four hours a day to handle any client emergencies that may arise. We encourage you to contact us for a free consultation at 718-523-1111.